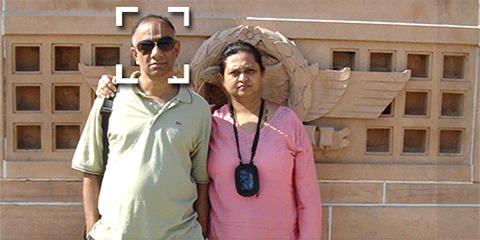 "I usually select four- or five-star funds from Value Research list. If a fund falls to two stars, I do tend to shift my investments."
Mr S Raghunathan is a mechanical engineer by profession. He works for the prestigious Bhabha Atomic Research Centre at Mumbai. This 56-year old - despite being in the government, which promises an 'absolutely assured' retired life - is the rare investor who has managed robust returns from a mainly equity portfolio. This is despite the many ups and downs the markets have suffered since he made his mutual fund debut way back in 2003.
Raghunathan explains how he, an engineer, got interested in finance. "In 2003, my wife moved jobs and we had lump-sum money to invest. I used to consult a broker regularly for investment advice. I found that he used to refer to a journal regularly. I was curious and asked him what he referred to. He told me that it was Mutual Fund Insight magazine. That's when I started reading the magazine and began to visit the Value Research website too," he explains.
Apart from Value Research, he says he trusts the Quantum [Mutual Fund] group for balanced advice and consults personalfn.com. "Broker portals, I find, make you transact a lot. I want a more long-term and balanced view," he says.
Mutual fund preferences
An assured pension has prompted him to tilt heavily towards equities in his asset allocation. "My pension is sure to be upwards of ₹60,000, which will be in excess of my needs. Therefore, I am maintaining an 85:15 allocation in favour of equity funds." His debt investments are mainly in provident fund and fixed deposits.
An ardent fan of SIPs, Raghunathan says, "I have never stopped an SIP since I started in 2003. Based on my pay, I change the total amount I am investing every year." He has also worked out a system for monitoring his funds regularly. He checks on his portfolio once every six months.
This approach has stood him in good stead, with his portfolio today carrying an aggregate 17 per cent CAGR, even after the recent correction.
Though he tried out direct plans for a while, he found that they needed a lot of 'running around'. He makes his investments through an online advisory platform because of the convenience of transacting there. "I like to have all my investments neatly captured at one place. To put it bluntly, if I am not around, I don't want my family to be hunting for my investments. I have told my daughter to look into my portfolio here."
What are his favourite funds? Raghunathan's main investments have been HDFC Equity Fund, Franklin India Bluechip Fund and Franklin India Prima Plus since 2003. Later, he added on Quantum Long Term Equity and Mirae Asset Opportunities. He has also recently added Mirae Emerging Bluechip Fund.
What are the two or three investment tenets that have helped him build a winning portfolio?
Success mantras
"One thing I have diligently followed is not to react to market volatility. No matter what the market is doing, I have not changed my investment patterns. Often, I don't even look at the return column of my portfolio. Two, Bluechip and Prima Plus went through a rough patch after I invested. But I have kept in mind one piece of advice: don't 'book profits' on your funds until you really need the money. I haven't done so. Three, I usually select four or five-star funds from Value Research list. When it falls to three stars, I keep a watch on the performance. If it falls to two stars, I do tend to shift my investments."
The other lesson learnt is to be systematic in investing. As Raghunathan says, "I find that most people tend to make very impulsive purchases of mutual funds. They buy whenever they have money or there's an NFO. Then, when a down market arrives, they simply put it away and even forget about it." If they aren't around, their family would not even know that they had made such an investment, he says, making a case for maintaining an updated record of investments.
This story first appeared in January 2016.