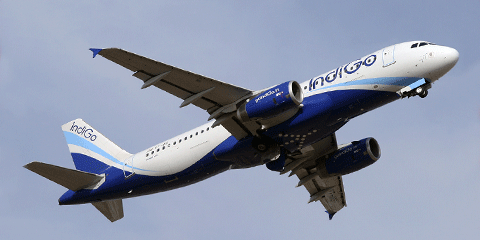 InterGlobe Aviation Ltd, the owner of India's largest and most profitable airline IndiGo, said third-quarter profit rose 24% because of cheaper fuel and buoyant demand for travel on local routes.
InterGlobe Aviation, in its first earning announcement since its stock-market listing in December, said net profit rose to ₹657.28 crore for the three months ended 31 December from ₹531.56 crore in the yearearlier period, beating analysts' estimates. IndiGo also reported the highest quarterly profit before tax since its inception.
Falling fares and more flights combined to drive air passenger growth in India, already the fastest growing aviation market, to 25.1% in November, leaving the US, the world's largest aviation market, a distant No. 2 with 9.1% growth, the International Air Transport Association said earlier this month.
"I expect IndiGo to continue their solid earnings cycle in the near term," said Kapil Kaul, chief executive officer (South Asia) at aviation consultant Capa Centre for Aviation.
The airline, which raised over 3,000 crore last year in an initial public offering, registered an 11.4% increase in third-quarter total income from operations to 4,297.75 crore from 3,857.35 crore in the year-earlier period.
The company had been expected to post a profit of 642.80 crore on net sales of 4,176.30 crore, according to a survey of three analysts by Bloomberg.
The earnings were announced after the end of trading on Thursday.
Shares of InterGlobe Aviation lost 0.29% to close at 1,197.50 on the BSE, while the benchmark Sensex lost 0.41% to close at 23,962.21 points.
In a statement, IndiGo said the airline's profit before tax was
932.90 crore for the December quarter, marking an increase of 24% over the same period last year.
"Our business continues to perform well on the back of increase in fleet size, robust passenger demand and low fuel prices. Lower fuel prices enabled us to lower our fares to our customers, further stimulating market demand and increasing the propensity of people to travel," Aditya Ghosh, president and whole-time director, said.
Jet Airways (India) Ltd and SpiceJet Ltd are yet to announce their results.
The December quarter is the peak season for airlines because of travel during festivals and year-end holidays.
IndiGo flew 27.6% more passengers at 8.33 million with a seat occupancy of 84.6% for the third quarter of the current financial year, compared with the same period last year.
However, the average fare for the December quarter of the current fiscal slipped by 14.2% to Rs 4,517 a ticket against ₹5,262 for the same period last year.
As on 31 December, IndiGo had total cash of 5,746.30 crore comprising of 2,097.40 crore of free cash and restricted cash of 3,648.90 crore. The total debt was 3,930.20 crore, all of which is aircraft-related.
IndiGo, which has 100 aircraft with an average age of 4.2 years, including used aircraft, does not have any working capital debt.
Aircraft fuel expenses fell 20% to 1,165.86 crore in the December quarter.
In 2015, the price of benchmark Brent crude fell 35%, while in 2014, it dropped 48%. In India, fuel costs count for about 45-55% of the revenue of domestic airlines, and a 4% reduction in fuel cost adds around 2% to the operating margin of airlines.
IndiGo had said the delivery of the first fuel-efficient Airbus A320neo has been delayed and there could be additional delays, citing "industrial reasons" at European plane maker Airbus SAS.
As the launch customer of the A320neo, IndiGo was waiting for the fuel-efficient neo versions of the planes that will help the airline save fuel costs by 10-15%.
"However, on 17 December 2015, the company has received a notification from Airbus that the delivery of the first A320neo aircraft has been delayed due to industrial reasons. At this point, the company does not have a clear visibility of its future A320neo delivery schedule and the potential of additional delays exist. The company is looking at mitigating the potential shortfall in capacity through other options," the airline said in a note to investors on Thursday.
Ghosh of IndiGo, in an investors' call, said the airline is in talks with plane maker Airbus and engine maker Pratt & Whitney for early delivery of aircraft.
IndiGo was supposed to start taking delivery of its A320neos by 2015 year-end.
IndiGo had ordered 100 Airbus A320 aircraft in June 2005, 180 A320neo aircraft in June 2011 and 250 A320neo aircraft in August 2015. Each of these orders were the largest single order of aircraft by number from Airbus at the time of the order, according to Airbus.
However, the capacity addition in industry may be tepid in the next financial year because of the A320neo delivery delays for GoAir and IndiGo, which would be positive for yields, said K.G. Vishwanath, a partner at consulting firm Trinity Aviation Consultants Pte. Ltd.
In arrangement with HT Syndication | MINT