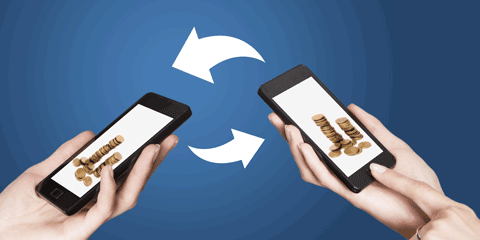 Under the autosweep facility, when your savings account balance exceeds a certain limit, the excess money is put into an FD. The threshold can be anywhere between ₹25,000 and ₹1 lakh. The FD would have a minimum maturity period as decided by the bank.
It works in the reverse too. If the savings account balance is used up when withdrawaing money, the bank will dip into the FD to make up for the shortfall. For instance, at Axis Bank Ltd, if the balance falls below ₹25,000 in autosweep savings account, the FD is tapped to give you the withdrawal amount.
The main attraction of autosweep is that excess money in a savings account can earn FD-like interest, which is higher than savings account interest. But frequent withdrawals from the FD means loss of interest. 'Every bank autosweeps in FDs with a certain maturity limit, say one year. If the investor liquidates the FD prematurely, the bank deducts some penalty from the interest or seizes the interest totally. In such cases, the investor loses even the nominal interest she would have otherwise earned on the same deposits,' said Hiren Dhakan, associate fund manager, Bonanza Portfolio, brokerage and investment advisory.
Losing on interest
Even if you were to put over a lakh in the autosweep savings account at the start of every month, frequent withdrawals will mean lower returns than a normal savings account. This happens due to two reasons. First is that the interest is calculated based on the number of days the FD was with the bank. This means that if the FD's tenor was a year, but money was withdrawn from it within, say, 25 days, then the interest applicable for 25 days only would be considered. Second, is that premature withdrawal penalty-usually 0.5-1% of interest payable-reduces returns. If your 25 days FD interest rate was 3.5%, postpenalty, you may get only 2.5%.
So, the total interest earned would ultimately be much lower than if you had kept the money in just the savings account.
Also, most banks offer low interest on FDs with tenors of up to 30 days. So, only if you maintain the FD for at least 30 days would it earn interest higher than a savings account. For instance, Axis Bank Ltd offers only 3.5% for deposits up to 30 days. ICICI Bank Ltd gives interest of 5.5% for 30-45-days FDs and 4.25% for 15-29-days FDs. So, after penalty of 0.5% for premature withdrawal, the rate becomes only 5% or 3.75%.
Eye on time
The sweeps between the savings account and the FD happen in two ways. One is the Last In First Out (Lifo) method and another is First In First Out (Fifo) method. This changes the way you earn returns on the autosweep account. In Lifo, the last FD booked is broken for withdrawals, and in Fifo, the first FD created with swept-in money is used for withdrawals.
Mostly, Lifo leads to better returns than Fifo as the first FD swept in is allowed to earn interest for longer. However, for frequent withdrawals, Fifo might be better, especially if withdrawals are as frequent as once in 10-15 days. This is because under Lifo, the last FD doesn't earn any interest as it is not allowed to remain with the bank for enough time.
What should you do?
The purpose of an autosweep facility is to allow excess money in a savings account to earn better returns. So, if there is little chance of having extra money at the end of the month, then this facility is not useful. 'Autosweep accounts are for people who usually have big balances (more than twice the minimum required), and few withdrawals a month,' said Dhakan.
If you are considering autosweep as an investment tool, do the math first to understand the real returns. Even if you were to leave the autosweep as it is and earn 8% per annum on a one-year FD, the real return would be 3%, assuming an inflation of 5% per annum. Post-tax, this return would be 2% for those in the highest tax bracket.
Check the frequency of your withdrawals and the bank's deposit rates for the relevant period. Subtract the penalty from the interest rate to find out whether the facility is useful.
To maximise returns, refrain from dipping into the FDs for a few months from the time they are created. 'One should leave the FDs for a tenure of at least 3-6 months in an autosweep facility to avoid deposit termination charges for premature closure and lose interest,' said Anil Rego, founder and chief executive officer, Right Horizons, a financial planning firm.
Some banks don't charge premature closure penalties for autosweep accounts. 'IndusInd Bank Ltd does not charge penalty on the FD that is broken prematurely,' said Ritesh Raj Saxena, head-savings, digital and payments business, IndusInd Bank.
Try to choose a bank that has lower limits on the autosweep savings account. High thresholds may not suit small savers.
The autosweep feature also means different interests earned, which matters for taxation. 'A disadvantage with autosweep is that one needs to reconcile accounts to be sure that interests have been paid correctly and all autosweeps are rightly accounted for. The bank account statement can be complicated,' said Vishal Dhawan, founder and chief executive officer, Plan Ahead Wealth Advisors.
Moreover, since every time money goes from the savings account an FD is created, by the end of the year, you may end up with many FDs.
Some people choose autosweep accounts to build emergency funds. But there are better instruments available to do this. 'Since FDs created from autosweep accounts tend to earn interest only if monies remain there for a minimum period of time, liquid funds (mutual funds) may be better as their accrual is daily,' said Dhawan.
If you use a current account, then autosweep makes sense, depending on withdrawal frequency, as 'current accounts earn zero returns', said Dhawan. This is especially true if you are likely to often have idle money in the account, even if the maturity period is small.
Autosweep may be suitable for those who have a low-risk appetite and don't want to deploy the excess money anywhere else. This facility is also good for businesses which get no interest on their current accounts. But if you expect frequent withdrawals, give this feature a miss.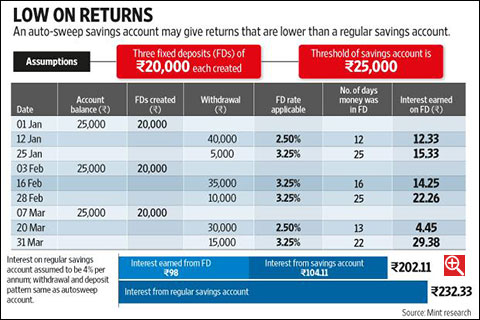 In arrangement with HT Syndication | MINT
This story first appeared in October 2015.