He has this habit of speaking at the speed of light and if you blink, you'll miss out on critical information. Having interacted with A Balasubramanian, the Chief Executive Officer of Birla Sun Life Mutual Fund, many times in the last twenty years, I, Aarati Krishnan, was keen to be at my attentive best, when I interviewed him.
Unfortunately, Bala is able to spare the one hour that I need only at 7 pm on a Monday evening. I brace myself and dial his number to find him buzzing like a dynamo. He's in his car on his way to a meeting and the moment I ask my first question, he's firing off answers.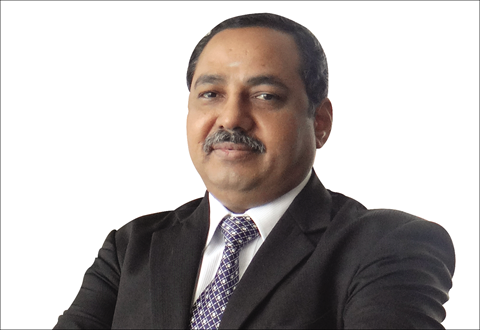 All about research
Given that Bala is the rare CEO who has handled practically every role in a mutual fund, I ask him about his career path. Bala says he got his first break into the fund industry when he was recruited by GIC Mutual Fund in 1992. With the industry in its nascent stage, not only did Bala manage investments for the fund, he also chipped in with product design, administration and marketing. "There was no distinction then, it was like a start-up," laughs Bala.
This multi-functional exposure stood him in good stead when the Aditya Birla Group decided to make its debut in 1995. S K Mitra, his erstwhile boss at GIC MF, offered him the job of chief dealer and soon Bharat Shah, the fund's renowned CIO, roped him into managing Birla Balance, a hybrid fund. When Birla Mutual Fund flagged off the first debt funds - Birla Income Plus and Birla Cash Plus - Bala steered them successfully through a big boom-bust phase in interest rates.
Is debt-fund management a very different kettle of fish from equities? There's a lot of synergy between the two, believes Bala. "Credit analysis requires you to really deep dive into a company's balance sheet. You also need an ongoing relationship with the management. In equities, the external environment matters a lot - the sector, market conditions, valuations; company analysis is only a part of it."
S V Prasad, the fund's CEO then, told Bala that he ought to be 'gunning for his chair'. That meant acquiring some marketing experience and Bala moved to head marketing and distribution for eight-nine months before returning as its Chief Investment Officer.
Negotiation
So what has really changed about stock-picking in all these years?
"In those days to win at stock selection, you had to have more information than anyone else in the market. All that was available was annual report info and so you had to be good at gathering market intelligence. Secondly, you could make a lot of difference to the price through negotiation. But today information is freely available and execution is automated. Therefore, you can only win if your assessment of a company differs from the Street and you get it right," he notes.
While Birla Sun Life has always had a good reputation at managing debt funds, it did go through a rough patch with its equity schemes in the mid-2000s. How did he manage to turn that around?
Forget mistakes, focus on winners
The change which made the most difference to Birla's equity fund returns was the one he brought about in the mindset of the research team, says Bala.
"In the equity-research business, there is always a lot of emphasis on learning from one's mistakes. Analysts tend to focus a lot on what went wrong and why their calls didn't work. Instead, I find that it helps to be bullish and to have a positive frame of mind. If you can identify the three or four things you did right in identifying the winning stocks in your portfolio, you can replicate your performance. Once you begin to focus on your winners, it serves as a morale booster. You cultivate the winning habit."
Bala says this sea change in focus, from fretting over the losers to unearthing more winners, played a critical role in turning around fund performance.
In fact, he applied this mantra to the sales and marketing function too. "I tell my people that if you are finding traction in retail sales, identify the three-four things that you are doing right. Then replicate them."
It is an unspoken rule in the industry that senior people from the investment side seldom enjoy being in the sales and marketing function. But Bala is a cheerful exception to this. "I like to tell my district and regional heads that they should behave like chief ministers of Indian states. You don't find state CMs approaching the Centre for every little decision. Similarly, regional managers should take ownership of their regions. They should come to the PM - the head office - only for fiscal need," he quips.
M&A
Today Birla Sun Life manages a long laundry list of schemes in both equity and debt, thanks to its inorganic growth strategy. It is the only fund house to have done not one but three acquisitions - Apple Mutual Fund, Alliance Capital and ING Investments.
But Bala defends this energetically. "We have not only acquired schemes but managed to grow them manifold," he says pointing to the many flagship funds which came into the Birla fold through acquisitions. "Some of our top-performing funds today are acquired funds. Take Birla MNC fund. It has been a long-term performer; it was originally from Apple Mutual Fund. Birla Sun Life Frontline Equity, the successful large-cap fund, is from the Alliance stables."
On auto pilot
Given that very few industry veterans have dabbled both in debt- and equity-fund management, what's his approach to managing his personal money?
Bala says he has put a good bit of it on auto pilot. "In recent years, what I have done is that I have set up standing instructions with my bank so that 50-55 per cent of my pay goes directly into SIPs with Birla's equity funds. I found that if I get that money in my account and then wait to invest, the money simply disappears. I end up spending it!"
For fixed income, he has maximised his Voluntary Provident Fund (VPF) contribution so that it helps to build a retirement corpus.
With the SIPs and VPF taking away a good chunk of his monthly pay cheque, Bala rues, "Despite earning so much, sometimes it is quite hand to mouth. At the end of the month, sometimes my account is totally emptied out!"
Why doesn't he invest in gilt funds and make a bit of extra money on falling rates? After all, he's an ace at taking debt calls. "I prefer VPF because it gives me a tax-free return of 8.75 per cent and I don't need to manage that money actively," he says.
Like most fund CEOs, Bala swears by the schemes that his own firm manages. But what are his favourites? "My favourite equity fund is Birla Midcap Fund," he says. When I ask him about the extra volatility in mid caps and their high valuations, he explains, "My thinking is that if I am going to invest for the long term anyway, I might as well earn a higher return. Yes, mid-cap funds can go through volatility, but over ten or 15 years it doesn't matter and they do deliver much better returns."
He also has an allocation to Birla MNC Fund. "The stocks the fund buys are the kind you can buy and hold for life," he says. He also invests in Birla Frontline Equity, the flagship.
While many fund CIOs shun real estate, Bala has acquired his own home at Mumbai for sentimental reasons. "I believe in living in my own home. It is true that it makes more financial sense to live in rented property because rental yields are so low, but I somehow preferred not to move once in every two-three years with my family."
What balance?
Remembering the many late-evening calls I've done with him, some going on until 9 pm, I ask Bala whether he has any time for hobbies. He admits he is quite a workaholic. "I leave home by 8 or 8.10 every morning whether its sun or rain. I don't set any specific time at the evening to leave and work very late hours. Basically, if work truly is worship and you are passionate about what you are doing, why should you look for work-life balance?" he counters, quite surprisingly. "Only if you make a distinction between the two do you need to really look for time to relax."
Bala doesn't read fiction and sticks to newspapers. "I never wrap up a day without reading the Financial Times. I also read a bunch of Indian business newspapers."
Not that he doesn't have a personal life. He reels off a range of activities on the personal front too. He is actively involved with the Satya Sai Seva Trust and attends their meetings regularly. "It is an opportunity to meet some very highly educated and accomplished people and it broadens my perspective, he says. Bala is also active in the music and spiritual circles at Chembur. At work, he has initiated an in-house Olympics for Birla Sun Life staffers and participates in everything from kabaddi matches to kho kho. He's got an open-door policy at work.
As if all this weren't enough, he travels once a year to his hometown. "My brother and I have taken over a primary school in my village where we studied. We are actively involved in running and maintaining it."
This whirlwind of activities leaves me a trifle breathless and I ask him, like the Boost ad, about the secret of his energy. "The secret is that I really enjoy what I do. I don't compare myself with others or feel jealous. I consciously avoid people who are negative and crib a lot. I have found that it really has a big impact on your energy levels and mindset. This is not only in my personal life but also at work. Even in the industry, I consciously keep away from people who are always complaining".
By now, it has been a 90 minute chat and my cell phone is getting a little too hot to handle. But I hang up feeling quite re-energised after this conversation with one of most dynamic and upbeat personalities I have met.
This interview appeared in the October 2015 Issue of Mutual Fund Insight.