Mumbai: It's a June afternoon. About 80 young women in blue uniform sit in three rows in the lobby of a residential building in Chhatral, a town in Gujarat. They were waiting for the bus that would take them to the Arvind Ltd textile factory in Santej, 17km away. Soon, they are escorted to the bus, which has an armed guard. The journey begins, tracked by the head of the company's security department at the factory.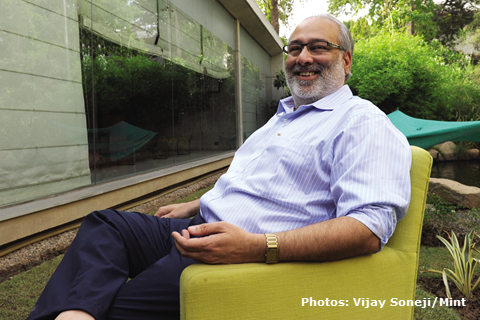 The 80 women are from a group of 300 Adivasi or tribal women, trained and employed by the company, and put up at the residential quarters in Chhatral. Arvind's inspiration: China's giant factory complexes that provide residential accommodation for hundreds of thousands of workers.
For Sanjay Lalbhai, chairman and managing director of Arvind, the Chhatral experiment is a curtain-raiser to the bigger plan: A 50-acre factory and residential campus coming up in Dehgam, 50km out of Ahmedabad, which will house 10,000 tribal women.
The new factory will be key to Lalbhai's efforts to transform Arvind from a textile manufacturer to a garment producer. It won't be easy: The company currently produces about 282 million metres of textiles, of which only 5% is converted into garments. But then, for Arvind, which branched out from denim to multiple fabrics and paid a heavy price for that adventure, the future is clear, and it is in apparel.
When Arvind faltered
When Lalbhai joined the family business in 1979, Arvind was a successful textile maker, publicly traded since 1931. It was consistently profitable and paid regular dividends.
"However, the era of composite mills-with all the government restrictions-was soon coming to an end," Lalbhai said in an interview at his office, adding that the company felt it would languish if it didn't do something different. It was the licence raj era, and the government was not giving textile mills any more licences, which instead went to power looms and smaller firms. Smaller and nimbler rivals took on large mills such as Arvind, which were hobbled by a unionized workforce and high operating costs.
That prompted Arvind to make its first transformation, from a local maker of saris and dhotis to become the world's second largest producer of denim. As the economy opened up in the early 1990s, the company built a 400-plus acre complex to manufacture fabric for shirts and trousers. It assumed the rupee would keep falling and help exports, and that demand for lifestyle textile denim would keep rising, generating money to invest in the new plant. The plans went awry, Arvind piled up debt, and almost went bust in the process.
In the year 2000, when Arvind went in for restructuring of its debts, the debt was ₹2,500 crore, against sales of ₹1,150 crore. The debt restructuring package was for ₹800 crore, said Jayesh Shah, director and chief financial officer (CFO).
"Everything on paper looked right. The plan was aggressive, but strategically well-placed," said Arvind Singhal, chairman and managing director of Technopak Advisors Pvt. Ltd, a Gurgaon-based retail consulting firm. But the company, he said, failed to anticipate the execution complexities and lacked management bandwidth.
"The projects took longer to come on stream and the capex cycles had started. They had to go through a significant amount of pain as they were overleveraged," said Singhal.
Faced with a question of survival, "I personally met some 80 investors and admitted to our mistakes, and asked for a chance to set it all right," said Lalbhai.
For Arvind, the first decade of the new millennium was the age of consolidation. Its debt-equity ratio is now 1.14, down from a peak of 3.16 in 2001-02. For the fiscal year ended 2015, its debt was ₹3,094.67 crore, according to data from financial information provider Capitaline.
Spinning change
"You know the old ways of sticking to your core competence, basic strengths... That was relevant in the 1980s. Today, we are entering a phase where there will be a high level of disruption and if you don't change or if you are not anticipating the future correctly, or you yourself are not planning to be disruptive, you will get disrupted," said Lalbhai.
As it resumes its growth journey, Arvind is betting on the upheavals that lie ahead. With rising domestic consumption, it aims to become a dominant brand and retail (B&R) company. Within textiles, it is moving towards garments, which promise better returns on capital employed. It's also looking at technology and investing in e-commerce and technical textiles (textile solutions used in sectors like industrial manufacturing, infrastructure, transport, energy and personal protection). Arvind also wants to be a one-stop shop for its suppliers.
The company has brought top global brands like Gap, Tommy Hilfiger, Nautica and Aeropostale to India in the last four years. It now wants to become India's largest brand and fashion retail company, overtaking larger rival Madura Fashion and Lifestyle (Madura F&L), a unit of Aditya Birla Nuvo Ltd, an Aditya Birla Group company that is more than double its size.
Arvind currently earns 90% of its revenues from textiles, and B&R, but three years from now, it plans to demerge and list its real estate, B&R, engineering, water, technical textiles and e-commerce businesses.
The share of textiles in overall revenues fell from 72% in 2010-11 to 63% in 2014-15, while that of B&R rose from 23% to 30%. By March 2018, Arvind plans to reduce the share of textiles further to 48%, while raising retail revenues to almost 35%.
In the next three years, new revenue streams such as technical textiles and e-commerce will increase their contribution from 7% to 18% of overall revenues, according to a company presentation to investors in May.
However, this time too, the management bandwidth to handle the multiple programmes could be a challenge. "The change from a textiles manufacturer to garment requires operational excellence. The multiple joint ventures in retail and brands require management bandwidth and capital for their growth and expansion. Likewise, with e-commerce, it's the future, but requires huge investments and management bandwidth," said Singhal of Technopak Advisors, while pointing out that there is no other company in textile or retail attempting to do so many things at the same time.
But CFO Shah is not unduly worried. Unlike in the past, when the company targeted growth on borrowed money, this time it will be largely through internal accruals, he said. Arvind will invest ₹.500 crore every year for the next three years, said Shah, for growth based on an "asset-light model".
"The company will get about ₹500 crore in operating cash flow by fiscal 2016," said Jignesh Kamani, an analyst at Nirmal Bang Institutional Equities Research, citing better margins in B&R and stable working capital.
In 2014-15, operating cash flow was just ₹100 crore, thanks to Arvind's heavy investments in B&R and formats like Megamart, its apparel retail chain.
Towards garments
Arvind has been trying to shift from textiles to garments over the last 10 years, but the move is yet to gain scale. "I don't see us selling any more fabric; in three years, we will only be selling the final garments," said Lalbhai.
The shift is driven by a number of factors. The global apparel market will grow from $1.1 trillion (around ₹73 trillion today) in 2012 to $2.1 trillion (around ₹.140 trillion today) by 2025, according to a textile and apparel sector report, The Road to 2025, by Wazir Management Consultants. A major share of this market creation is expected to happen in China, India, Brazil and Russia, where the growth of per capita spending on apparel will be higher than economic growth.
Brands are exploring how to reduce the time to convert cotton to yarn to garment. According to Harminder Sahni, managing director of Wazir Advisors, companies are becoming vertically integrated across the sector in India and Bangladesh.
As consumption balloons in India, start-ups and online vendors are also looking for final garments, creating opportunities for companies such as Arvind. Also, increasing costs and domestic consumption in China are making manufacturing there unviable.
"India is well-poised to pick up some of this business," said Arvind's Shah.
There are two reasons why Lalbhai thinks garment-making never took off in India in a major way. "Firstly, it's come up in major metros, and even if it has come up in Tirupur, it's all migrant labour coming there. That is constraining. As then, there are competing jobs available and the staff incurs a lot of cost in coming to the workplace, causing large attrition and absentees. In this industry, the biggest risk is attrition and absentees," he said.
Lalbhai sees the answer in the Chinese dormitory model. The Chhatral experiment and the Dehgam plans are part of this grand strategy. Arvind has also taken a major position in Ethiopia for making garments and is building capacity for 2.8 million garments per month over the next couple of years.
Easier labour rules help as well. "As we speak, in Gujarat, now we can have workers on fixed-term contract, bring them on one-year contract and renew it every year. So, this reduces my labour liability, giving me flexibility," said Lalbhai.
To be sure, the shift to a complete garment manufacturer will take longer than three years. "In three years, garment revenue is likely to be ₹2,500 crore, accounting for 25% of fabrics converted into garments," said Shah.
Retail road map
Becoming India's largest B&R company won't be easy. Madura F&L, which has an array of brands including Louis Philippe, Van Heusen, Allen Solly, Peter England and People, is 60% bigger than Arvind. Its 2014-15 revenues were ₹3,735 crore, against Arvind's B&R division's revenues of ₹2,361 crore. Moreover, the division's operating profit margin is 5.2%, against Madura F&L's 12.4%, while return on capital employed is 2%, compared with Madura F&L's 71.9%.
To be fair, Arvind's B&R business is just 12 years old, while Madura F&L has been around since 1988. The younger business is also growing at a faster clip of 25% since fiscal 2011, as against Madura F&L's 19.8% growth in the same period, according to a 29 May report by Nirmal Bang.
However, the prevailing economic slowdown did not spare Arvind either, with the B&R business growing just 17.2% in the last quarter of 2014-15. Store area addition was also up just 5.5% at 0.76 million sq. ft in fiscal year 2015, against a compounded average growth of 47.2% from fiscal year 2012 to fiscal year 2014.
Moreover, Megamart is still floundering. Arvind shut its old format stores and trimmed store count to 140 in 2014-15 from 216 in 2011-12, said another Nirmal Bang report, dated 15 May.
If Lalbhai is worried, he doesn't show it.
"We have added a lot of new growth engines and they (Madura F&L) haven't added; so we should bridge this gap," he said, referring to the portfolio additions of Gap, the Children's Place and Nautica; e-commerce initiatives under Creyate and another forthcoming multibrand e-commerce platform.
In niche segments such as bridge-to-luxury and kidswear, Arvind already has a dominant position, said J. Suresh, managing director and chief executive officer of the B&R business Arvind Lifestyle Brands, adding that it's looking at a strong No. 2 position in innerwear. Brands such as Nautica, Tommy Hilfiger and Calvin Klein constitute 70-80% of the bridge-to-luxury market. In kidswear, the company has a portfolio including US Polo Kids, Elle Kids, Gap kids, Nautica Kids and Cherokee at the lower end, retailed through Megamart.
The growth engines Lalbhai spoke of include Gap, which will have revenues of ₹1,000 crore and the Children's Place with revenues of ₹500 crore in five years. The company's power brands Arrow, US Polo and Flying Machine-which contribute ₹1,200 crore, or 50%, of its overall B&R sales-will more than double to ₹2,500 crore in three years. By 2018-19, the B&R division will be a ₹5,000 crore business, growing 127% from the current ₹2,200 crore. Profitability will also come with scale, and will be aided by brands such as Nautica and Calvin Klien becoming profitable, said Suresh.
However, rivals aren't sitting idle. In three years, Madura F&L's four power brands will bring in more than ₹5,000 crore in revenues alone.
"We will have three ₹1,500 crore brands in the next two to three years," said Ashish Dixit, president of Madura F&L, adding that the fourth will be over ₹1,000 crore in size.
The transformation, though, is still to be captured in Arvind's share value. Currently, its stock trades at 92.68% discount to its peers in the textile and retail sectors, such as Vardhman Textiles Ltd, Raymond Ltd, Welspun India Ltd, Trent Ltd, Kewal Kiran Clothing Ltd and Page Industries Ltd, thanks largely to its perception as a traditional textiles firm.
For Arvind and the women from Chhatral alike, the journey has just begun.
In arrangement with HT Syndication | Mint