Many money managers in India talk of value investing, but Sankaran Naren, Chief Investment Officer of ICICI Prudential AMC, has the conviction to practice it. I know this because of the many contrarian predictions that Naren has made in his interviews to me over the years, which have turned out to be exactly right.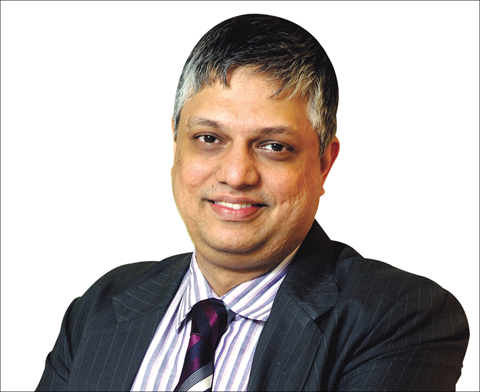 Two recent instances pop up in my mind. In September 2013, when equity funds were facing large outflows and GDP growth was languishing at 5 per cent, he declared that retail sentiment couldn't get any worse and that it was the best time to buy equity funds. We all know how well equities have done since then.
In March 2014, after a big rally in stocks, Naren surprisingly recommended gilt funds. Arguing that ten-year gilt yields of 9 per cent offered great 'value', he pointed to the fear, lack of interest and bad past returns in gilt funds, which made them a great buy. Those who followed that call would have made double-digit returns till date.
So, when I got to catch up with Naren amid his hectic schedule, the first question I asked him was how he really came to be such a die-hard contrarian and value investor. He recollected his early days as a stock broker at a firm in Chennai, when the market was rushing headlong into the dot-com bubble. In the years from 1994-95 to 2002-03, Indian markets saw a runaway bull phase, but it was led by just one sector - technology.
No logic
Says Naren, "In 1995, every company without a business model was trading at a significant premium to its book value. Many of them were loss-making. By 2002, after the crash, there were many stocks trading at dividend yields higher than bank deposit rates. So, you had both extremes. One extreme was in 1994-95; another extreme was in 2002."
Midway through this roller-coaster ride, Naren was convinced that momentum investing could fail big-time and that if you were a fundamental investor, you had to stop following the herd. He became convinced that to win in the long run in the market, you had to develop contrarian thinking.
"Having seen this period, it became very clear that you can have periods of time where there is no value for logic and there is no logic to valuations." He remembers that the 1995-2000 phase was so frustrating for some of his colleagues that they left finance jobs to work in IT firms. "Many of my classmates actually told me to become an IT guy. One of my friends even found a job for me in an IT company in 2000," he recalls.
Thankfully, he stayed with equities and returned to the market soon after the dot-com crash of 2001. Between 2003 and 2008, the beaten down old-economy stocks turned multi-baggers. Value investing requires a lot of patience, Naren concluded from that episode.
On the opposite camp
But if value investing works so well in India, why are so many fund managers sceptical of it? Many even claim that India is a 'growth market'.
"The best time to invest in value stocks is actually when everyone has lost hope in them," he explains. The critical thing to make money, though, is not to keep changing your style just because it hasn't worked in the immediate past.
In fact, Naren likes to buy stocks and sectors where much of the market is in the opposite camp. He looks for sectors with a lot of negative news or with consistent institutional selling.
"We are big believers in cycles. We don't believe in changing strategy after a failure. Today, for example, the entire metal sector is valued less than the single largest pharma company or single largest private bank. Can you have a country which grows only by people consuming drugs or through retail lending?" he challenges.
Naren reiterates that the quality side of the market is today quite overvalued because everyone is chasing earnings visibility and cash flows. He avoids this segment like the plague.
Bumpy road
Does he continue to be as bullish on debt funds as he was a year ago? "Debt is a phenomenally attractive asset class because while India has meaningful interest rates, rates are close to zero in the rest of the world. So, today a value-investing technique in India leads to debt investing. You have global money that is blocked from investing in Indian fixed income (there is a ceiling to FII investments). But FIIs are allowed to invest in equities without a limit. That creates an arbitrage opportunity," he explains.
He believes that for equity markets to deliver big returns, cyclical sectors such as real estate and infrastructure have to de-leverage a lot. As this may take time, Indian investors need to moderate their return expectations from equities over the next year or two.
"Today many investors believe that a 15-20 per cent return from equities happens pretty smoothly. Five- and ten-year returns today convince people of that. But actually getting to that return may not be so easy. It can be a bumpy ride," says Naren. This is one reason why ICICI Prudential as a fund house has been recommending ICICI Prudential Balanced Advantage and Dynamic Plan which can make the most of the market volatility opportunity.
But given the market conditions today, are value stocks difficult to find? Does Naren find a dearth of value picks for the popular ICICI Prudential Value Discovery Fund, with assets of `10,000 crore?
"We have been adopting a more large-cap focus than earlier," he states. He adds that value stocks can be found in every kind of market, but there is a problem in thinking very differently from the omniscient Street.
"When you're away from the crowd, you can have extended periods of underperformance. For example, if I look back at 1999-2000, we had huge value in almost all stocks, except technology, media and communication. Similarly, in 2007, if you were not in infrastructure, metals, and oil and gas, you had huge value everywhere else. But during 1999-2000 or 2006-07, your performance would have been very bad if you had invested in the value stocks."
Doing a bond
Where has Naren invested his own money? Does he walk the talk?
His own broad allocation is 60 per cent fixed income and 40 per cent equities since he is super bullish on the former and positive on latter. These investments are largely through mutual funds. Does he change this allocation tactically? Yes, he does, says Naren. For instance, in 2013, there was so much pessimism in the bond market, that his contrarian make-up made him buy gilt funds.
"2013 September onwards, I felt that there was complete fear in bond and currency markets. For me, the best indicator of fear is the inflow into any asset class. There was complete lack of investment in duration funds. Past returns from these funds were also looking quite bad. This combination of fear and bad past returns was what made me invest. In the period till then, I was rarely a debt mutual-fund investor," he admits.
For his equity exposure, he likes funds such as ICICI Prudential Balanced Advantage and ICICI Prudential Dynamic Fund. "Right now we are in a market phase where there is neither fear nor euphoria about equities. Neither is the market cheap, nor is it costly. We are exactly in the mid-point, I would say. This is the reason why I believe in a moderate-return kind of model."
Gold doesn't glitter
So do his contrarian instincts now cry out to buy gold? After all, domestic gold prices have just fallen below `25,000 and global prices are below $1,100/ounce.
No, says Naren. "The problem with gold is, how do you value it? Personally, the time which I find best for investing in gold is if you see local equity markets, debt markets and real estate markets, all three in the overvalued zone. I don't see that today. Today the Indian equity market is fairly valued and the Indian debt market is attractively valued. That's why I would say that I would prefer debt mutual funds to gold."
Is a big crash coming in real estate? Many market mavens are predicting it, but what does Mr Contrarian think? Naren has worked out a nice quantitative formula for that too. He believes that real estate would remain overvalued as long as the gap between home-loan rates (cost) and rental yields (returns) on property remains wide.
"The mortgage interest rate minus rental yield was roughly 4 per cent in 2004. Today it's about 7.5 per cent. My investment philosophy is built on reversion to mean. So, my belief is that 7.5 per cent has to come to 4-5 per cent," he says.
Hungry for info
Certainly not a fitness freak, Naren nevertheless feels that fitness is one area of his life where he needs to improve. "I walk quite a bit in and around Bandra, where I live. But I don't do much else for fitness."
He likes listening to classical Carnatic music. "My favourite singers, strangely, are all no more - MS Subbalakshmi, Maharajapuram Santhanam, U Shrinivas." He reels off the names of the all-time greats with a tinge of regret.
Naren comes in to work by 8.15 and normally leaves by 7. He is also unable to stop himself from tracking the markets all the time. "Seeing market prices is the most unproductive activity that I do which I'm not able to give up. People like Warren Buffett say you should keep off from the noise. But I'm not able to do so. It's a habit." Always hungry for information, he likes to scroll through both BSE and NSE websites through the day, skim through a dozen newspapers and read annual reports on the fly.
"My time is spread over many things. I look at companies, meet analysts from brokerages. I also track fund performance closely and I'm involved in my role as a CIO."
"The level of information which is available today is much more than the amount of time you have to read it," he admits with a laugh.
More power to his reading. There are surely too few money managers in India bold enough to take the road less travelled.
This column appeared in the September 2015 Issue of Mutual Fund Insight.