Aarati Krishnan talks to Kenneth Andrade, Head, Investments, IDFC AMC, about his decision to move on from the mutual fund industry while taking some last investment ideas from this renowned portfolio manager.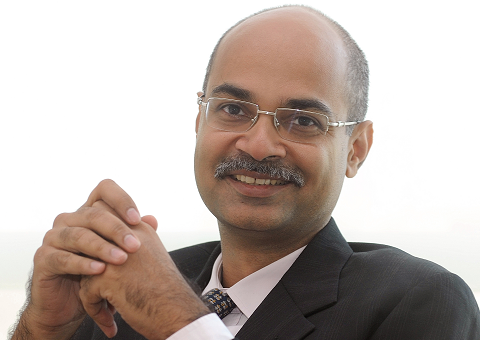 Meeting Kenneth Andrade of IDFC Mutual Fund was sheer luck. Given that Kenneth has recently announced his decision to move on from the mutual fund industry to 'pursue entrepreneurial opportunities', journalists like me may no longer get an opportunity to pick the brains of one of the true out-of-the-box thinkers in the Indian investment space.
I realise, as soon as the interview gets underway, that I may have to junk the long list of questions that I've prepared beforehand. The moment I begin my 'what-do-you-think-of-markets' questions, he pulls up a large Excel sheet on the screen and offers to explain where he thinks Indian markets are going and how he's constructing his fund portfolios to reflect this view.
I quickly discover that Kenneth's take on the market is very different from the views doing the rounds on the Street. Even as most analysts are now rolling over their Sensex targets and bravely projecting double-digit earnings growth for FY16, Kenneth holds the view that the market is being too impatient in expecting a quick turnaround in earnings.
Too much too soon
"At the moment, there is a lot of expectation that the economy will turn track in one or two years and that earnings will pick up in 2016 or 2017. We have a different take on that. Today, BSE 500 companies have all-time high debt-equity ratios. Corporate balance sheets don't have the space to grow. Neither do banks. For economic activity to pick up, you need balance sheets to expand. So how do you grow?" he asks me.
Seeing that I am somewhat speechless, he pulls up a sheet that maps the assets, debt-equity, net worth and profits of BSE 500 companies for the last ten years. Basically, the numbers show that India's largest companies have been on an expansion binge in the last ten years, with their total assets expanding from `8 lakh crore to `55 lakh crore. The expansion has been funded mainly by debt and hasn't paid off yet. Corporate profits of India Inc have grown at a mere 12 per cent (CAGR) for the last ten years, while their capital employed has zoomed by 24 per cent a year. As a result, while the aggregate debt-equity ratio has ballooned from 0.35 times to 0.8 times, the return on equity - the key driver of valuations - has dropped from 20.7 per cent to 11.5 per cent over this ten-year period.
This, Kenneth argues, is the real reason why corporate profits are growing at a snail's pace today. "I believe that people are building in too strong earnings growth expectations too early in the cycle. People say that capex cycle will pick up. But from our numbers, it is clear that even `10 lakh crore of capex may not move the needle much. Therefore, where is the 20 per cent earnings growth going to come from?" Those numbers have my head reeling, but it is difficult not to get convinced by Kenneth's conviction and passion for this subject.
Go for quality
As I grapple with all this, Kenneth adds that this doesn't mean he is negative on equity markets. It is just that the revival that everyone is expecting may take time to materialise. And it is only during periods of uncertainty that one has the best opportunities to enter into stocks. "I think we are close to the bottom of the cycle. Over the next two-three years, India Inc will gradually increase its profitability. The additional cash flow can be used to pay down debt." But, he believes, this revival will be a 'slow grind up'.
So what does this imply for stock choices? Well, Kenneth is avoiding highly leveraged companies and is negative on banks. "We are looking for quality companies that dominate their industry with moderate debt and positive cash flows." But given that many fund managers are on the hunt for 'quality', aren't such stocks trading at too-rich valuations? "They are," agrees Kenneth, "but I would rather take on valuation risks in my portfolios than solvency risks."
So given this thesis, is there a dearth of good stock-picking opportunities, I ask? He says that there are plenty of opportunities out there if you don't make market-cap distinctions. He isn't a believer in small-cap or mid-cap stocks being riskier than large caps.
"Good firms can come from any market-cap range. Smaller firms may have good management and turn out to be quite capital efficient. Not all large-cap companies have great promoters," he points out.
MSME opportunity
But Kenneth's offbeat market view has meant that the portfolio of the flagship fund IDFC Premier Equity isn't in sync with indices. The fund has been a middle-of-the-road performer in the last one year. Given that investors tend to chase returns, will the fund lose out, I query.
"You have to deal with it. It's a competitive landscape. When IDFC Premier was giving a 100 per cent return, we didn't get 100 per cent of the inflows. I believe as long as there's a structure and logic to your portfolio construction, investors will understand." He adds that if one compares IDFC Premier Equity's returns to the large-cap, mid-cap and diversified equity indices over the last ten years, the fund outperformed in nine out of ten years - it missed the Nifty by 1 per cent in a down year.
He thinks that the process of consolidation that is on in the markets today will lead to good investment opportunities over the next few quarters. But he thinks it is important not to go into an expanding economy with the wrong portfolio. He explains that most investors and fund managers are scrounging in the same set of sectors, which is a mistake. To outperform over the long term, you needed to be ahead of the curve on what would drive the next bull market.
"The next bull market can be driven by sectors and stocks which are not on our radar right now," predicts Kenneth, citing the example of Indian MSMEs.
"I think Mudra Bank can be a real game-changer for Indian MSMEs. If you look at corporate India, the promoter's personal balance sheet is different from the company's. He usually leverages the company's balance sheet. For the small business owner, there is no distinction between his personal balance sheet and his firm's balance sheet. So if you make capital available to him at much cheaper rates than the current 20 per cent-plus, he can scale up his business. His personal spending can then boost the economy too."
He believes that such a resurgence in Indian MSMEs can rejuvenate primary markets and expand the listed universe of stocks far beyond what we can imagine today.
Watching 'em grow
So given his sober view on equities, where has he put his personal money? Is he going for the mattress, I ask, jokingly. "I am completely into equities. I believe in giving the market time to deliver," he says, stating that if you wait for valuations to get really cheap, you will never be able to invest.
Then, does he own no fixed-income investments? "I have been an equity investor all my life. In equities, if you bide your time, you will get to double-digit returns. Fixed income can generate double-digit returns for short time periods, but that's not sustainable. I look to debt mainly to generate regular income," he says.
So how did Kenneth get into this money management business? Was he always this passionate about stocks? No, he laughs. "I had no idea what I would like to become. I applied for a job at Capital Market magazine after college. At that time, the magazine had in-house analysts who wrote this column called IPO Monitor. I took the job up for 18 months." He then worked as a freelance journalist for a while before joining Apple Mutual Fund in 1994.
He has juggled quite a few jobs since then, working at smaller brokerages, before he got recruited by SSKI in the late nineties. Then came the 'big break' into Kotak Mutual Fund and then IDFC Mutual Fund about ten years ago. He stayed on at IDFC until 2015. What made him stay on with IDFC for so long? He says that fund management fascinated him because it allowed him to really study businesses. "I love holding onto companies for really long time periods and understanding what drives their transformation. I am not a votary of earnings growth. I would rather buy companies which are efficient with their use of capital."
Good stock-picking, he feels, is not about predicting whether technology will do well or autos will do well. "It is all about buying efficient capital."
I switch gears to personal questions with some trepidation because Kenneth has this reputation for being quite reserved. So what does he do in his leisure time? "I do some reading," he says briefly, clamming up after talking freely about markets so far. Kenneth was born and brought up in Mumbai and is a 'Kalina' boy. And though he does read in his free time, his passion really is cars. He owns two electric cars ('all the electric ones available in the market') and spends a lot of his free time 'keeping them in good shape'. "Are electric cars a pain to drive? Do they die on you on the road, just like a smartphone?" I ask, being quite irritated with my phone for dying when I most needed it.
He vehemently defends his electric cars. "No, my cars have never died on me. I've done 45,000 km on them and have a charging station at home and also one at the office," he says. Kenneth is a gadget freak and loves to replace his phone with the latest launch. Weekends are about reading and experimenting with music. Kenneth has two teenage daughters who share all their music with him. As I have a teenage son too, we compare notes on the bands they listen to. The lyrics are awful, we agree, but the music is very catchy.
And when he has spare time, Kenneth takes his cars out for a drive. Where does he go? "I just get into my car and drive. I like to go for long drives at 60 km/hour wherever the road takes me," he says. Well, that statement may nicely sum up his latest career move too.
I may not get to meet him in his portfolio manager avatar again, but I'm sure with his passion for investing, original ideas and keen intellect, Kenneth will make waves at his next stint as well.