"A combination of underinvestment and valuations gives you the best value investment," says Sankaran Naren in this interview detailing his views on value investing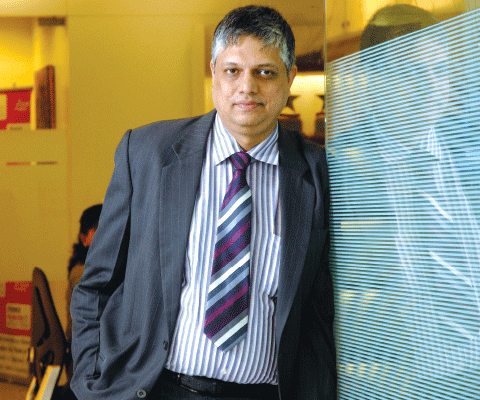 Is there any difference in the way value investing is followed in India as compared to the US?
Value investing as a strategy is not unique and it can be managed in different styles. In the US, they have the Benjamin Graham style, the Warren Buffett style and the David Dreman style; so, I would say that there are different styles within value investing. But what exactly is value investing? Value investing is buying cheap and waiting for returns to come over a longer period of time. It is just that-you have bought cheap and you can make a lot of money on that call.
It all started with Benjamin Graham, who conceptualised value investing. He created an allegory known as 'Mr Market'. Mr Market becomes happy at some point of time and brings up the prices. There are times when Mr Market is very sad and brings down the prices. Over a period of time, Mr Market goes through good and bad emotional cycles. After Graham, Warren Buffett took value investing in a different way; he focused much more on quality of business than Graham. What both of them did was modified and adapted into different strategies by money managers across the world. Unfortunately for us, the intellectual capital of everything comes from the West. We watch the trends in the West and learn from them. Consequently, we get numerous opportunities to learn from their mistakes and implement strategies accordingly.
Value investing as a model will always exist; you have to identify the areas where you can see value. When the investor doesn't see 'absolute value', he has to move to 'relative value', and in my opinion, even relative value at a point of time works well. If we go back to India's biggest bull period in 2007, it was difficult to find absolute value at that time. In that year, although pharmaceutical, technology and consumer stocks were relatively highly valued, investors who had invested in these three sectors had a very positive experience.
Investors have to remember that in equity markets, one can have an 'absolute value opportunity' as well as a 'relative value' period. But investors can make money in both the situations; the only point is that returns will be far higher if they buy when there is absolute value, while in relative value returns might be lower.
Whenever there is a global event due to which stocks take a beating, investors get a big opportunity to make absolute value. To give an example, in the last decade, there were two major events. One was the 9/11 World Trade Center event in the US. That event resulted in stocks going down across the world. Now if investors had bought stocks at that point of time, they could have made good money. The second big event was the crises after the Lehman failure. The point is to make big absolute value, you need a big global event because lots of markets are coupled. When you have big global events, all the markets become cheaper, which provides investors the biggest opportunity for absolute value.
Can you elaborate on the 3Ms on which you have built your investment strategy?
During the pre-2007 phase, we used to identify companies by looking at their balance sheets and financial ratios. We used to meet those companies and based on our conviction, we would invest or not invest in those companies. But after the 2008 crises, we realised that we were looking at 'our world of companies', which also formed part of the global world. Many global events are now known to many of us, which forced us to start looking into the future.
With the internet age and books, I came across the writings of Howard Marks, Michael Mauboussin and James Montier. They had written books and articles during the period 2007-09 and subsequently. In the case of Howard Marks, his articles helped me get an intellectual footing, which, in turn, helped me take right calls. After reading their works, I realised that I could implement their lessons in my job of managing other people's money. In a country like India, we always believe in some theories and in some people. The advantage here was that none of these three people were India-centric, so there was no question of biases. This resulted in reading only their theories and not their views about India. I think that when you apply those theories in India, we get certain benefits.
From Howard Marks, I learnt to recognise that in every market condition, there are some cycles. For example, one could clearly see the IT cycle during 1998-2000 and the infrastructure cycle during 2004-07. To go outside asset classes, you could see there was a pro-real estate cycle and pro-gold cycle post 2008. Howard Marks' theory helps you to understand that there are cycles of certain sectors and one should always be aware of those cycles. If you take Michael Mauboussin, he taught me that if I have a certain view on markets, then I should also know what will make me change my view. To give an example, in 2011-12 when India's current account deficit (CAD) was high, we thought that international investing was the most attractive investment opportunity. Thanks to him, when the CAD started coming down, I knew I had to change my view on those investments and start looking at Indian markets, which had turned attractive.
James Montier wrote a book on value investing. He was one of the few people who had written about the tenets of investing. I would say that it was one of the best articles I have read. This article should be read every six months so that one doesn't forget the lesson. It teaches us to look from the 'top down-bottom up' approach. For example, we were underweight on the banking sector based upon our top-down approach, but subsequently, our top down-bottom up approach suggested that we should invest in banks. Similarly, we asked people to invest in public sector undertakings (PSUs) because from a classic top down-bottom up approach, we found value in those stocks.
Value investing requires a great deal of research, discipline and patience. What do you suggest an investor just starting out could do to practise these?
I think practising value investing is not very easy. It's not simple to just start off as a value investor because as human beings and with our history of trying to protect ourselves from risk, we find comfort in the herd. But value investing is exactly the opposite-you have to stand at the other side of the market. In my personal case, the experience during the 1994-96 period made me a value investor. But later when I started practising value investing and I managed to stay afloat during the bubble of 1998-2000, value investing became a way of life for me. So as I said, in my life, it was the period of 1994-96 where I made mistakes and during 1998-2000, I managed to maintain my wisdom. In 1994-96, I never realised that in equity you have to become increasingly cautious when valuations expand. At that time, many stocks fell between 70-90 per cent. Similarly, value investing for a common man should involve one bubble where he loses money and another bubble where he shows his resolve for value investing principles. But with an investment team such as that of ICICI Mutual Fund, with team members continuously sharing their past experiences, investors can move to value investing without making a mistake. For a layman, making some mistakes is inevitable in order to understand the virtue of value investing. Whether he will straightaway become a value investor is a little difficult to predict.
How do you practise patience with value investing when managing an open-ended fund?
Our experience suggests that in any ten-year timeframe, there will be one year when you can get badly hurt and at that time you must be willing to take that pain. As we have seen in the past, no bubble lasts long and it has to burst. During the bubble period, one may have to suffer. My reading suggests that I survived 2007 when almost everything had turned expensive. One has to endure as we don't have any control over the performance of the market. As is known, the market can boil whenever it wants and that is the period when as a value investor, your patience is tested.
Though I was convinced about my value investing principles, as a fund manager of an open ended fund, it's an extremely tough task to live through that 'bubble phase'. I say this because the ICICI Prudential Value Discovery fund, which I managed at that time, used to witness continuous redemptions. On the other hand, I used to also manage the ICICI Prudential Infrastructure fund, which was a part of the bubble and was seeing steady flows. It wasn't a comfortable experience for me. I think the major flaw of genuine value investing is that the strategy will always fail when there is a bubble. During the tech boom of 1998-2000, Buffett was widely criticised for not investing in IT companies. He went through his own agnipariksha during that phase and came out victorious because he stood to the principle of value investing. Suffering is a part of value investing.
How easy were these habits to form as a value investor?
Basically, one should have an introspective mind to try and see what decisions went wrong. If introspection is built into an investor's framework of life, I think he will eventually end up as a value investor. It is just looking back at the mistakes made over the period of time that forces you to think about the errors and rectify them. This path normally leads to value investing. I believe that value investing is a framework where one has to pass through turbulent times during a bubble and deliver superior returns over the longer duration. But I believe that many people don't believe in introspection; if they did, they would become value investors. I have learned from reading books that it is much easier to have a few people around you who believe in you. For me, value investing was inculcated by having another set of people who also lost money in the 1994-96 phase and we decided to introspect to see what went wrong.
With the abundance of stocks out there, could you share the process you use to narrow them down in search of a value investment?
One of the most important lessons Buffett has taught is that while practising value investing, one has to 'concentrate'. As fund managers, we manage billions of dollars, and stocks above a certain size form a part of our investment horizon. In the first part, we look at the stocks which have performed badly. We also figure out why institutional investors are underinvested and why external analysts have degraded that particular stock -this is the starting point for us. Similarly, we also look at stocks which have done well and why institutional investors are overweight, and why analysts have put a 'buy' for that particular stock.
In both the scenarios, we try to make a case to move out of a set of stocks which have done well to stocks which have done badly. In the next part, we try to find out why people are negative on the stock, meet the management of the company and do our own internal research. But that is not enough. When we are using value investing, we figure out whether that stock can improve from the current situation. Currently, the fund is managed by a colleague. He meets companies and sector analysts among all brokerages. He also reads all annual reports, participates in conference calls and looks at where the stock is placed in a cycle. With all these aspects, he decides whether the stock should be bought or not. So, it's a combination of cycles, sector, industry and company valuations that is considered before including the stock in the portfolio. A combination of underinvestment and valuations gives you the best value.
Do you think being a contrarian works best for value investors?
Yes. This is particularly true for a fund manager who is a value investor because he has to manage a pool of public money continuously. It is very easy for a value fund manager to be contrarian. If you are not contrarian, it becomes difficult to manage public money. We often use 'relative value investing', which works very well with a contrarian strategy.
How can an investor practise value investing?
What makes value investing special is that you are buying low and selling high. In this task of buying low and selling high, you are not with others because of the demand-supply dynamics for that particular asset class. As a mutual fund investor, if you practise asset allocation, you are actually practising value investing. In the case of asset allocation, you are buying low and selling high, which is simply what value investing is. For example, in the case of asset allocation, what you would have done is redeemed from equity mutual funds in 2007 when markets ran up and invested in equity mutual funds when the crisis broke out in 2008.
Even investing through systematic investment plans is a form of value investing because you are investing a fixed sum of money at regular intervals of time, which yields a lower number of units in a bull market and a higher number of units in a bear market.