Value Research Stock Advisor has just released a new stock recommendation. You can click here to learn more about this premium service, and get immediate access to the live recommendations, plus new ones as soon as they are issued.
Real estate is a big opportunity. It is the one resource that is amongst the most scarce. Demand either real or estimated has pushed prices at levels even our father's generation could never have expected. Despite the glut in many pockets, quality real estate is still in short supply and current capacity addition across the country still can't keep up with demand.
The Government wants to chip in with its target to develop 100 smart cities (think a modern smart city with facilities and infrastructure optimised with technology) and a reduction in FDI restrictions from a minimum size 50,000 sq metres to 20,000 sq metres with minimum FDI investments reduced from $10 million to $5 million. This FDI relaxation is expected to help smaller domestic companies to tie-up with foreign players.
Further measures like tax concessions for real estate investment trusts (REITs), increase in allocation for the National Housing Bank and allowing slum development as part of Corporate Social Responsibility are likely to boost the sector.
Ashiana Housing
Ashiana is not your typical real estate company. It does not play the land bank game; does not operate in any Tier-I cities, does not build any premium apartments and has no major debt on its books.
Land prices are hitting the roof in many Tier-II and Tier-III cities and Ashiana makes a killing in these markets. Its sales volume increased by 33 per cent annually between FY10-14. Sales value grew by 45 per cent CAGR and pre-tax operating cash flows compounded 33 per cent during this period. The best part of the whole deal is that Ashiana does not load up on debt, which stood at a miniscule ₹9 crore for FY14.
Ashiana changed its accounting policy from the standard "percentage completed method" that recognises revenue at various stages of project development to a conservative "project completed method" that recognises revenue only when a project is handed over. This hurts Ashiana reported revenue, makes it lumpy but it wins investor trust with its conservatism. Load up wholesale.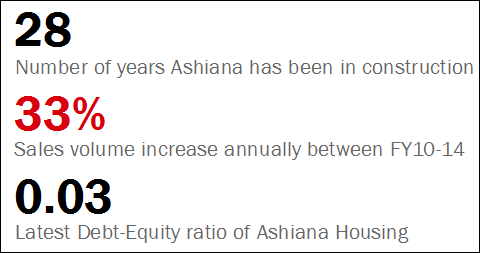 Oberoi Realty
Mumbai-based Oberoi Realty is one of a rare breed of real estate companies that did not participate in the mad land-acquisition rush of the bull-run that ended in 2008. Oberoi, a primarily Mumbai-based operator has been seeing softening demand in the past couple of quarters. The company's management though is optimistic of sales picking up by the second half of this year.
Key triggers for a turnaround in Oberoi's fortunes this year are: the Esquire project is expected to reach revenue recognition, Exquisite Phase III and Mulund project, soft launch of Prisma and the recent acquisition of 25 acres in Borivali, Mumbai with a development area potential of 4.5 million square feet.
The company's conservative management has helped it to ride out the slowdown with lesser pain than peers. It's been debt-free for the last five years. The net debt-equity ratio stands at 0.13x. Buy.