Going by the performance of infrastructure funds, the Warren Buffet tenet: "Be fearful when others are greedy, and be greedy when others are fearful" seems to be coming true. In the last six months, CNX Infrastructure index is up 20 per cent. As if taking a cue, performance of infrastructure funds is also on the rise and many funds in this category are up in the range of 25-40 per cent in the past six months.
Says Yogesh Bhatt, fund manager, ICICI Prudential Infrastructure; "I think this change is largely on expectation that India might have a stable government post the general elections, making investors build a portfolio of infrastructure stocks." Take for instance the performance of Franklin Build India, which is up 24.25 per cent and Birla Sun Life Infrastructure that is up 19.47 per cent in the past one year.
Rebound triggers
"There is a marked improvement from where we were six months ago. Our nominal GDP growth rate is still at 13-14 percent every year and we need capacities to accelerate the pace of growth. If policy framework favouring faster clearances of projects is built, it would boost the infrastructure sector," adds Bhatt.
The broad range of constituents of the infrastructure sector gives fund managers the freedom to invest beyond the infrastructure theme. For instance, Birla Sun Life Infrastructure has its highest allocation to ICICI Bank. Likewise, Franklin Build India too has the highest allocation to ICICI Bank followed by Bharti Airtel.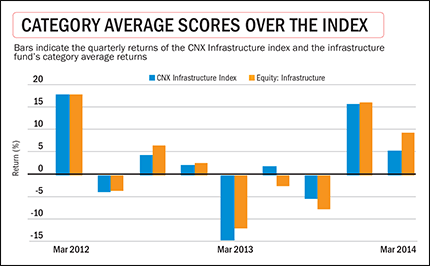 In recent years, fund managers point out that the markets have witnessed more of a consumption driven growth, with hardly any investment led growth. However, with several economic indicators pointing towards a revival of the economy; the infrastructure theme is likely to be the driver. Says Rupesh Patel fund manager of Tata Infrastructure Plan A; "The next government has to kick start the investment side of the economy to put us back on the path of higher economic growth." Such a move will boost the fortunes of the infrastructure sector and also funds in this sector.