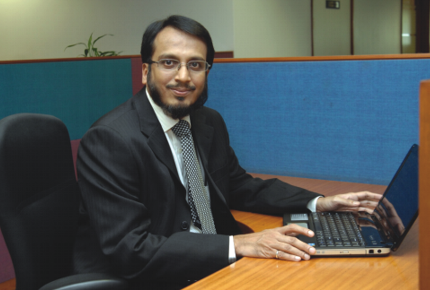 Taher Badshah is the Senior fund manger and Co-head-Equities at Motilal Oswal Mutual Fund.
What investment strategy will you adopt when managing MOSt Focused 25 Fund?
The portfolio of this fund will be managed in a focused manner having maximum of 25 stocks. But on more practical basis we want to have an ongoing portfolio with 18-20 stocks. The portfolio will comprise high-quality stocks with 'buy and hold' approach and run on a very focused and concentrated platform.
We have adopted a 'QGL' approach which represents buying quality stocks with growth and longevity. We define quality companies as those which have certain competitive advantages and which makes them superior among peers. But that superiority should reflect itself in the form of numbers and then we will look at historic parameters such as Return on Capital (ROC) and Return on Equity (ROE). Basically, we will invest in quality companies that grow at reasonable rates and better then economy at large.
Second, we want reasonable and consistent growth to follow our 'buy and hold' strategy. Our holding period of stocks will be about 2-5 years, and we don't want to hold them for a shorter duration. We might look at trimming the exposure of exiting that stock, only if the stock becomes too expensive in terms of valuations.
Third, there should be longevity in the business of 10-20 years. Though we may exit the stock after few years; we should be able to see the business horizon for long periods.
Aren't concentrated funds risky given the experience of other existing schemes?
I cannot speak for others, but the key problem in running such a high conviction and focused portfolio is that if you have selected a wrong stock it can hurt you very badly. For us, the difference will be in stock identification and selection and our QGL approach.
What is your overall investment approach? Do you prefer value stocks or growth stocks?
Clearly, we will be looking at growth stocks, but as I said we are all about looking at reasonable growth. We are not chasing 30-40 per cent growth companies; even if they show potential our basic assumption is whether we can get 20 per cent earnings growth. But that growth should be based on a consistent basis. Though there might be some bad quarters, broadly, they should have the DNA to grow slightly ahead of the market. So frankly, we are more conservative in our growth approach. There might be some value stocks, but clearly we don't want value without any growth. However, if we like certain value companies which have the potential to grow consistently then we might look into. Personally too, I follow the above approach for stock selection.
What do you include in this portfolio and what is avoided?
We have not gone with a top-down or sector specific approach as we have a portfolio of about 18-20 stocks. We are looking at few good businesses that we think are superior and will hold them for 2-3 years. The portfolio is a good mix of stocks in the banking, oil and gas, pharma and telecom sector across market capitalisation.
Why should investors invest in this scheme?
We are following a tried and tested strategy which was successful with our PMS offerings. Moreover, we will stick to the mandate of this fund and investors with 2-3 year investment horizon should invest for long-term wealth creation.