Astute investors look for ways to extract the most from their investments. Since the beginning of this year, they have been handed the control to make the most of their money when investing in mutual funds. Since January 1, 2013, mutual fund investors have been given the option of investing in funds directly with the fund companies in special 'direct' plans of all funds. While investors could have invested directly with an AMC earlier too, there was no advantage in doing so. However, beginning the first day of this year, Sebi has asked fund companies to create special direct plans in which the commission that would otherwise have been paid to intermediaries goes to the fund's NAV, and thus to the investors.
The sales figures over the past three months tell the success story of this new way to invest, with nearly a third of fresh investments in equity funds coming through the direct plans and 50 per cent investment in debt funds being routed the direct way. Surely, smart investors have exercised the option and are enjoying the benefits of investing directly in mutual funds than routing their investments through a distributor or an advisor.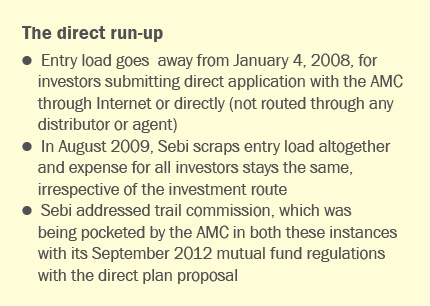 Investing directly
Since January 1, 2013, AMCs have introduced direct plans in the existing open-ended schemes. You need to submit your application at the AMC's branch office and ensure that your application form does not have the distributor's ARN code but instead has 'direct' written in the prescribed box. You could also register with the AMC's own portal and invest through it or submit your applications at registrars of fund houses such as CAMS and Karvy, again ensuring that you have mentioned 'direct' and not a distributor's ARN code.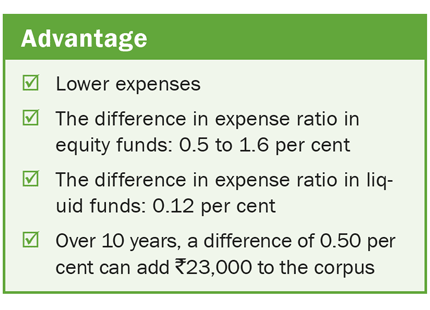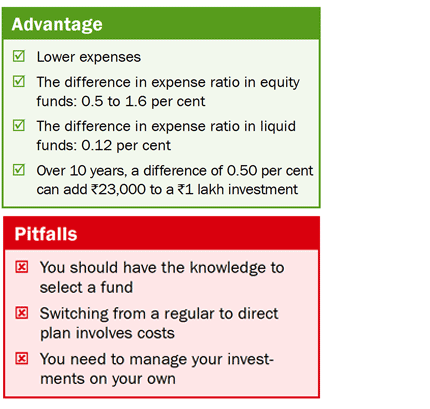 Like all good things, there are benefits and pitfalls when investing directly (See: Advantage and pitfalls). But what goes for direct plans is the reward of lower expenses resulting in higher returns for investors. The difference in returns depends on the variance between the expense ratio in a regular plan compared to a direct plan. This difference depends on the commissions paid to distributors towards expenses. So, in case of equity funds the difference is between 0.5-1.6 per cent whereas in the case of liquid funds the average difference is 0.12 per cent.
Compared to corresponding regular plans, direct plans will have higher returns of the order of 0.4 to 0.7 per cent per year. Over a long period, that does tend to accumulate. For instance, during the last decade, the median large-cap equity fund had returns of 18.8 per cent a year. That means an investment of Rs 1 lakh would have grown to Rs 5.6 lakh. A direct plan with half a per cent less expense would have delivered Rs 5.84 lakh instead. You should maximise value but you have to decide whether over ten years this difference is large enough to forego the services of an intermediary. After all, investing through direct plans makes sense when investors are certain that going through an intermediary offers no value.
What if you want to shift to direct?
Existing investors, tempted to move from regular plans to direct plans, need to tread with caution, because there are costs involved if they decide to make the move. The switch to direct plan is not hassle-free. There are constraints because a switch is a simultaneous redemption and purchase. For instance, in case of investments made through a distributor, with a distributor code mentioned on the documents, the investor would have to pay a one-time applicable exit load. If they were routed directly, no exit load will be deducted. The applicable exit load would be as stated at the time of purchase of the fund and not as prevalent at the time of the exit.
There are also tax implications; short-term capital gains (STCG) tax is applicable on investments redeemed before 12 months. Switching to a direct plan from the existing regular plan will be treated like a normal redemption. Therefore, you will have to pay STCG tax on investments that have been invested for less than 12 months. STCG for equity schemes works to 15 per cent on the gain plus 3 per cent cess and in case of non-equity schemes it is 30 per cent on the gain plus 3 per cent cess. In the case of equity investment, long-term capital gains (LTCG) tax is nil but it will be applicable to all non-equity schemes. LTCG on non-equity schemes is 10 per cent without indexation or 20 per cent with indexation plus 3 per cent cess. SIP investors need to know that tenure of each investment will be calculated separately to determine the capital gains tax.
Likewise, if you have invested in an equity-oriented mutual fund, when you switch to direct plans, you would have to pay STT at 0.001 per cent on redemption and no STT on the purchases from June 1, 2013. At present, the STT is 0.25 per cent in case of redemption and purchase of equity mutual fund. Debt funds do not attract any STT.
Should you go direct?
The answer depends entirely on what services your fund advisor offers you and whether you can substitute them yourself. Ideally, an advisor would be helping you with investment advise along with procedural help. If you don't think that these are worth the extra money and are confident of your do-it-yourself abilities, then you should go direct. But do so after due diligence because some AMCs have started charging exit load between 1 and 3 per cent on switches or redemptions made before one year. Therefore, switch only if you are planning to stay invested for long-term and you have passed the minimum tenure in which exit load and STCG is applicable.
If you have invested in equity funds, you can stop the SIPs and STPs in regular plan and start them in direct plan of same scheme. If you have invested in any non-equity fund you shouldn't switch to direct plans as the tax-incidence is very high compared to the benefit. Instead, start fresh investments in direct plans. Remember, however tempting they seem, direct plans are a compromise on convenience to some extent as you need to spend time and effort in selecting the most suitable fund and track its performance. Moreover, a distributor facilitates a lot of paperwork, such as change in address intimation, any change to bank account details, filling application forms and more, which you will now need to manage on your own. But for savvy investors, who can manage their investments on their own, direct plans are the solution that they were long waiting for.