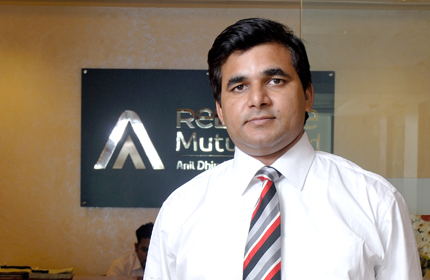 What is your fixed income strategy, especially for short- and long-term bond funds?
We maintain our view that benchmark rates will come down by 50-75 bps (including the January 2013 cut) over the next 2-6 months. The easing rate cycle, RBI's liquidity management and favourable demand-supply dynamics will continue to support bond yields going forward.
Accordingly in our long duration funds like Dynamic Fund, Income Fund and Gilt Fund, we had already increased the duration with higher allocation to G-sec – predominantly in the 10-15 year bucket. Going forward, these funds are well-positioned to reap the benefits of rate cut, fiscal consolidation and OMO (open market operation) support that will bring yields lower at the longer end of the tenure. The allocation to (state development loans) SDL and corporate bonds will be managed according to prevailing market condition at any moment.
Likewise for our short-term bond funds, we have maintained tactical allocation to G-secs in the 5-7 years tenor bucket and are primarily invested in corporate bonds in the 2-5 year duration bucket with an intention to run duration in the range of 2-2.50 years.
Which debt MF product would you suggest for a retail investor at this stage?
Debt Funds offer variety of solutions for all set of investors and their varying needs. From retail debt perspective, it is important to distinguish products for savers and investors. Debt mutual fund schemes offer solutions for both savings and investments. For instance, Reliance Money Manager fund is apt for those with savings needs. This scheme predominantly invests in short maturity money market instruments, with high credit profile and low average portfolio duration. In a way, it is used as a means for short-term cash management by various kinds of investors.
Investors in this fund can also avail the Reliance ATM card, which is a mutual fund linked debit card with the added benefit of easy and free transactions at all Visa ATMs across India. Through this scheme, investors can access their funds without any load from the primary scheme, Reliance Money Manager fund or Reliance Liquid fund – treasury plan anytime anywhere.
For those looking at investing in debt funds, the investment need could be from a 1- 5 year time horizon, with different investment objectives and financial goals. Based on these factors, we recommend all-weather funds which help to remove timing issues for entry and exit and also provide unique solutions for debt investing with superior tax efficiencies.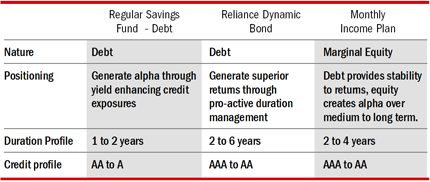 Is it a good time for investors to start investing in long-term debt funds?
Given our view of a softening of interest rates over the next 12 to 18 months, investors should add duration to their portfolios. While the RBI did cut the repo rate by 25 bps in January, we believe there may be further rate cuts from the RBI, and the softening bias is likely to continue.
Investors, who are confident of their ability to enter and exit at the right time from duration funds, can choose between short-term bond funds and income funds depending on their risk appetite. Investors who want to gain from a fall in rates but don't want to time the market themselves should look at a product like the dynamic bond fund, where the fund manager will add and reduce duration in the portfolio based on the views on interest rates at any point in time. That way investors will be able to gain in a declining rate scenario and will be able to preserve gains once that move has broadly paid out.
From a tax efficiency perspective also a dynamic bond fund may be more suitable as investors can continue to stay invested even after the rally has played out as the fund managers are expected to reduce duration in the portfolio once there are signs of rates bottoming out. In this manner investors will benefit from the taxation perspective.
Read Part 2 of the interview on May 8, where Amit Tripathi, Head Fixed Income, Reliance AMC talks about strategies investors should adopt when investing in debt funds.