We recommended Zylog Systems 18 months ago at an adjusted price of Rs 215. It turned out to be one of the biggest losers among our recommendations and is now standing at Rs 60. This is a point of concern for us too as our recommended portfolio has otherwise delivered an outstanding performance in the last couple of years. We got a few mails from our readers who wanted to know what went wrong with it and what to do with their existing holdings.
Apparently, it got caught in a vicious circle as the promoters had heavily pledged their shares. There were reports that promoters had a tough time in October 2012 and were not able to meet the margin requirement by the lenders. Reacting to this the lenders sold the pledged shares which brought down the share price. This was lead by Karvy Financial Services which sold 2.5 lakh shares through a bulk deal on BSE. The crashing prices mandated the promoters to bring in more margins or increase the pledged shares with them again and this lead to a further fall.
Was all this a sharp reaction by the traders on the bourses or there was a fundamental problem with the company? Well, the company's revenue fell for two straight quarters by 5 per cent in June 2012 and September 2012. Profits too declined 60 per cent q-o-q and 30 per cent y-o-y but the company nonetheless was able to push up the topline in the December 2012 quarter.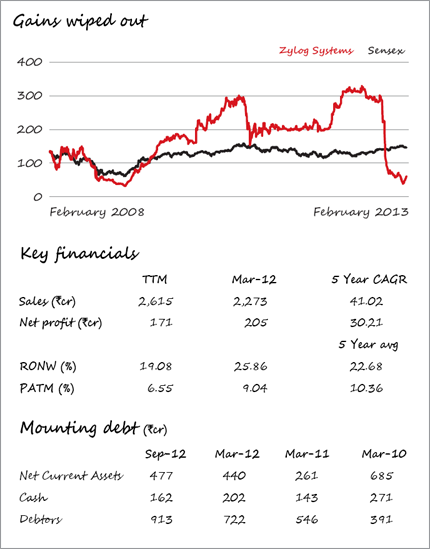 The company has also slowed down in its receivable collections over the years. The receivable days have gone up from 89 in FY11 to 102 in FY12. One of the concerning points is that the company's debtors have risen significantly as per the interim balancesheet, as on September 30, 2012, which is almost 36 per cent of the TTM sales and has exceeded its average figure of 30 per cent. This may be either due to early recognition of the revenues or delay in collection. Despite the rise in debtors, the company's working capital has reduced. Cash balances have also gone down and current debts are mounting which is a point of concern.
At this point of time one should avoid making fresh investments into it. Existing shareholders should wait for the March 2013-end balancesheet before arriving at a decision. It will make the picture clearer whether the company will be able to ease out the working capital requirements and meet out the debts.