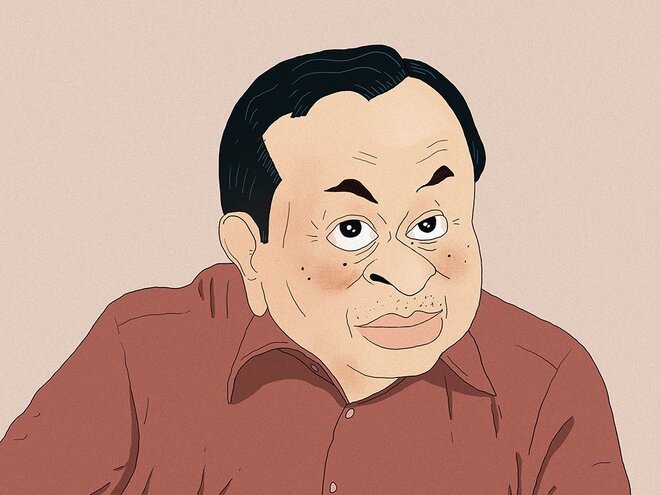 We were going by train to Baroda from Bombay, and the man in the other berth, a stockily built southerner, said his name was Verghese Kurien (or Kurien Verghese) and he would get down at a place called Anand, a name I had not heard before. I asked him casually what he was doing at Anand.
"Cattle," he said, "Buffalos."
The man did not look like a cattle dealer. In any case, what was a Keralite who did not know Gujarati, doing in a place like Anand, buying and selling cattle, if that is what he did. He said he had been trained as an engineer, just as I was, and he had been pushed into this job. The whole thing was very mysterious, and I had half a mind to call the police.
A few years later, I met him again, this time in Delhi, at a seminar on - what else - rural development. Those were the days when we used to have conferences, always called seminars, on everything, a favourite pastime of the Delhiwallah. He was still living in Anand, still dealing in cattle, but not the way I had suspected, and unlike us, was actually involved in rural development through milk, though he didn't call it that.
From Delhi we went to Udaipur, when I came to know him better. He was not buying or selling cattle; his co-op was producing and selling milk, not the way they sold it in Delhi or Mumbai, but through a co-operative that was actually owned and run by those who kept buffalos, some just one buffalo, and sold their milk, not just in Anand, but as far as Bombay, and would soon sell it all over India, including Delhi.
Four or five years later, I found myself in Gujarat, and lo and behold, whom should I meet at the airport but the cattle-man himself! When he invited me to his place in Anand, I had no idea what I had let myself in for. It was quite a revelation, a kind of people-power in action, in which everyone owned everything, and nobody really owned anything. It was a combined effort on a massive scale, though you did not notice it, and Kurien himself played it down.
As I recall, I spent two or three days in Anand, most of them in the field, going from one house or cottage to another, and as it turned out, from one placid buffalo to another. Everywhere, I felt at home, for Gujarat is a kind of place where you are at once made to feel at home.
In a small two-room cottage, more space was given to the family buffalo than the family itself. The lady of the house was actually washing the beast as they do in Bhojpuri films, though not singing to herself as they do in Bollywood. The van in which I was travelling and which belonged to Kurien's outfit, was collecting the milk, and at the same time, the man in charge was shelling out cash to the ladies, along with cattle feed and other things. The lady said she had brought up her family on the milk she sold and was planning to send the youngest son to the university. She also ran a tailoring business. The husband was not to be seen anywhere; in fact, the co-op seemed to be an entirely feminine affair, the only visible male being our friend Verghese Kurien, and his staff, who worked, as it were, behind the scenes, and made it appear so easy that you forgot that they were actually dealing in crores and their brand Amul was immensely popular across the country.
Everything in Anand was neat and clean, just like a Gujarati kitchen, and you never noticed the main driving force behind the whole thing, namely, the cattle. The only cow I saw was gazing peacefully behind Kurien's small bungalow. Even my meal was neat and simple, two or three chapatis, a small dollop of rice, and two small katoris of vegetables. My room was neat too, like a room in a hostel. There was a phone, but it went nowhere.
This is how Mahatma Gandhi's ashram must have been, I thought to myself, until I realised it was as modern as it could be, and the Gandhian appearance was only a facade. Verghese Kurien had given up his career in steel to plant a modern temple right in the middle of nowhere and made a success of it.
And he said he did not much care for milk!
This column was first published in Jan 2013.