Two of Mirae Asset's funds have performed brilliantly in the past one year and continue to look impressive. Gopal Agrawal, Chief Investment Officer, Mirae Asset and Neelesh Surana, Head-Equity, tell Vivek Malik about their funds' investment strategy and how the recent reforms push will benefit the market in coming months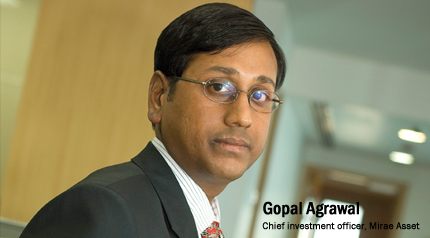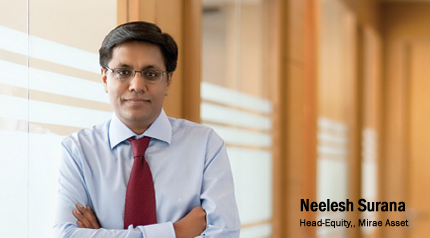 Both Mirae Asset Emerging Bluechip and Mirae Asset India Opportunities have done well in the past one year. What has been the reason for this good performance?
Neelesh Surana: Our investment strategy continues to stay focused on high quality businesses that can withstand current domestic and global headwinds. Our approach in the above context is more of bottom-up and stock specific as we believe deviation in returns within sectors would continue.
We are avoiding two pockets in the market – investing in companies with rich valuation as the margin of safety is low and companies which are available at cheap valuations but with weak business models. We feel there are enough opportunities available outside these two pockets in the market.
We believe that stock selection would remain crucial and only sectoral weightage would not help in generating differentiated returns
As a strategy, we invest in companies which deliver at least Rs 100 crore cash profits and this investment philosophy has helped us during the last couple of years which have been challenging for companies with leveraged balance sheets and high debt levels. Since the inception of Mirae Asset India Opportunities Fund (MAIOF) in April 2008, the Sensex would have moved by about 15 per cent but MAIOF NAV has done about 70 per cent returns. MAIOF has outperformed the BSE 200 by CAGR of 9 per cent over the past four and a half years. Mirae Asset Emerging Bluechip Fund (MAEBF), which is a mid-cap focused fund, too has completed two years of strong performance, where it has outperformed its benchmark CNX Midcap by 14 per cent CAGR.
What strategy do you adopt to manage these two funds considering their mandate is different?
Neelesh Surana: Mirae Asset India Opportunity Fund is a large-cap focused diversified equity opportunity Fund which has flexibility to move across sectors, themes and market capitalisations. Large-cap stocks usually form around 75-plus or -minus 10 per cent weightage in the portfolio. The remaining portfolio is invested in large-, mid- and small-cap stocks.
In Mirae Asset Emerging Bluechip Fund, we prefer investing in sizeable mid-cap stocks. At least 65 per cent of the portfolio is invested companies which are not part of the top 100 stocks by market capitalisation and have market capitalisation of at least Rs 100 crore at the time of investment. The weightage in the top holdings of MAEBF will be between 3.5-5 per cent, so we don't want to take concentrated bets of few stocks.
As a fund house we don't take any cash calls and don't take any future and options. Our investment levels in stocks remain close to 95 per cent-plus at most periods of time.
What mid- and small-cap bets have worked for Emerging Bluechip fund?
Neelesh Surana: Venkys, Apollo Tyres, Lupin, Divi's lab and Amara Raja Battery.
Will last month's reform drive push the markets from here?
Gopal Agrawal: Last month, the government announced a slew of measures to revive the sluggish economy. Those included a hike in diesel price by Rs 5, limiting subsidised LPG cylinders to 6-a-year per family, allowing FDI in aviation and multi-brand retail up to 49 per cent and 51 per cent, respectively. It also decided to dilute stakes in public sector units (PSUs) through disinvestment. Insipte of political uncertainties, the government has not rolled back these measures and has notified FDI in retail and aviation. Also, the government is finalising slew of further reforms especially on loans to State Electricity Boards and FDI in pharma. This will help sustain the market rallies. The reforms will help remove the fear of ratings downgrade and reduce the fiscal deficit and support the rupee. This may even propel RBI to reduce rates.
The much awaited efforts being put by the government are welcomed by markets. The political environment within country along with the global factors is going to decide the movement of markets, but in the short term on global front we think the environment has become a bit conducive for markets.
How about the liquidity situation now with RBI easing the CRR?
Gopal Agrawal: RBI has slashed CRR by 1.5 per cent so far in 2012. The recent cut is expected to inject around Rs 17,000 crore of primary liquidity into the banking system. Banks are currently comfortable with the liquidity situation. In the past couple of weeks lenders have borrowing below Rs 100 crore through RBI's liquidity adjustment facility (LAF). This is in stark contrast with the LAF level hovering between Rs 75,000 crore and Rs 1 lakh crore 3-4 months back. So now liquidity condition is getting improved. Banks have already reduced the term deposit rates and with SBI cutting the base rate by 25 bps, other banks too are expected to join in.
Which factors will play a critical role in determining the market movement? Gopal Agrawal: Globally, what we are seeing is that the situation is not as grim as it was feared, and the central banks are focusing on reviving growth by printing more money. This will help more funds flowing to emerging markets and India is one of the key beneficiaries to the same.
Domestically, a lot is dependent on the steps taken by the government to reduce the fiscal and current account deficit. Any action by the government in the direction to reduce the deficit will be a positive trigger for the market. Crude oil prices are hovering around $110 a barrel and with the rupee appreciation the deficit will also reduce. If inflation is controlled close to 6 per cent, RBI can cut rates which will help in improving the profitability of many companies and we can expect some PE expansion as well.
What is your outlook on the markets for the year ahead? What about current market valuations? Gopal Agrawal: Despite the global growth and stability challenges, political headwinds and growth dwindling on a relative basis within the country, India still stands out as a fast growing country with predictable and stable earnings growth that is reflected by the FII flows in the current year. This calendar year we have seen the highest ever FII flows. Earnings would still grow at around 11-12 per cent in the current year and 12-14 per cent next year. We have closed FY11 and FY12 with 1125 EPS (Sensex) on a free flow basis, so 12 per cent growth would make it 1260 EPS for this financial year and 1400 EPS for FY14.
RoE will expand from here onwards, and interest rates are likely to come down. So in this scenario, the PE of the market can expand. We have traded at average multiple of 14.7 or so for the last 10 years so definitely, in a falling interest rate environment, the PE of the market expands.
Do you see the upward trend continuing? Gopal Agrawal: Indian market may outperform the Asian peers in 2012 as we are amongst the large emerging countries. Earnings in India is quiet predictable and still growing. Pension fund managers in developed world are under pressure as yields are much below inflation rate. If we get our act right and the currency stabilises, we might see large inflows in our country. In this context, recent reform measures are very welcome.
On what themes are you betting your money this year?
Gopal Agrawal: We are very much positive on the consumer theme in India and we think that we are not going to see significant demand slowdown as rising per capita income, wealth and lower base will benefit all sectors related to consumption theme. We are positive on outsourcing theme too considering the weaker currency and size of business opportunity. If currency stabilises, we may change our portfolio weightages.
What are your observations from the first half earnings performance of India Inc?
Gopal Agrawal: Earnings growth was moderate and skewed towards financials, FMCG, cement, pharma select IT and auto ancillaries. We saw poor performance in global cyclical, telecom, real estate, auto and capex related sectors.
Any sector favourites that you have? How should investors select their stocks?
Neelesh Surana: At this juncture we don't have sectoral bias as sectors with strong visibility are trading at significant premium while others are trading at significant discounts. We will focus on individual stocks based on merit of the businesses and their ability to withstand macro challenges such as weak rupee, high interest rate, delay/cancellation in resource allocations, higher energy prices and rising manufacturing cost in India. I would advise that basic principles of value investing always work but keep reviewing your portfolio with changing business dynamics and macro environment.
Do you see interest rates going down soon?
Gopal Agrawal: We are expecting a total of 50 bps cut in the repo rate in the current fiscal. However, it is very difficult to ascertain the timing of the same.
Gold ETFs are seeing a lot of action, will it sustain?
Gopal Agrawal: Gold as a commodity is primarily influenced by global factors and debasement of a flat currencies is leading to strong gold prices.
Our view is that gold has peaked in dollar terms as we are seeing recovery in US and relative weakness in competing large economies. Weaker rupee is supporting gold prices. Investors should use gold asset as a diversification tool and invest a limited percentage of their portfolio in to it.
Your learning from the market in the past five years?
Gopal Agrawal: The three most important learning would be: Huge sectoral and stock divergence; the fact that quality stocks have prevailed; and focusing on basics of investing, i.e., cash flows and RoI.
What triggers will get investor interest back into the markets? Gopal Agrawal: Equities in 2012 are up 20 per cent but the retail participation in this rally has been very low because of the long uncertain environment and also low relative performance of equities. At the same time foreign investors have put record flows to the markets. We think that the confidence in markets has already started building up as the government has been pushed to the wall and they will do something now. Any positive trigger in the following will bring the investors back:
• Political actions
• Policy reforms
• Reduction in fiscal deficit
• Strengthening of Rupee
• Interest rate cut
Investors will also be more positive if the broad market participation improves than current polarised performance.
How do you see AMCs gaining from the mid-August Sebi reforms?
There are number of ways by which they can benefit – AMCs can expand business to Tier II and III cities; flexibility in cost allocation and measures to reduce churn; and long-term money raising focus.