The first gold ETF in India was launched in 2007 and since then 25 such funds have hit the market; indicating their huge popularity. The assets under the gold ETFs stand at Rs 10,002 crore as on June 30, 2012.
And their popularity is backed by solid returns too. Of all the investment options available in the market, gold ETFs have given the highest annual return of 24.8 per cent (Internal Rate of Return), which is way ahead than other categories.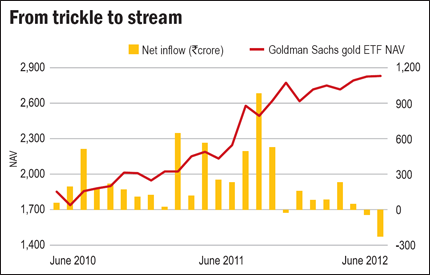 At the same time, gold ETFs suffer from heavy profit-booking too. In the months of May and June, net outflow shot up to Rs 268 crore, the highest since the launch of these funds, partly due to the reason that gold prices had hit the Rs 30,000 mark and investors were apprehensive about prices going further north.
However, from the recent outflows it should not be deduced that gold fever has receded as investors always see past returns as the measure for future investments. In August 2011, when gold prices rose by 15 per cent within a month, gold funds received the highest ever net inflows (Rs 988 crore) the very next month. So, there is every reason to believe that investors might turn towards them once again.