The Sanghvi group's flagship company, Sanghvi Movers is not only India's largest crane operator, but the fourth largest crane hiring company in Asia as well. The company's leading position in its industry has also earned it the 12th rank globally from Cranes International, a UK-based magazine tracking global crane providers.
Sanghvi Movers has a fleet of 295 medium to large-sized heavy duty hydraulic truck-mounted telescopic and lattice boom cranes and crawler cranes. The lifting capacity of these cranes ranges from 20 tonnes to 800 tonnes. These cranes are provided to the core sector areas in infrastructure like power, refineries, steel, cement and construction. Sanghvi Movers also undertakes turnkey projects, which includes provision of well-maintained equipments, expert technical services and skilled manpower.
Furthermore, to add to this impressive fleet, the company has ordered a 1,400 tonnes capacity crane that will be on hand in FY10, which would be useful for nuclear power projects. Sanghvi Movers also has a fleet of 80 trailers, which are used to transport parts of its cranes and hence, reduce dependency on outside transport service providers.
Financials
FY 06
FY 07
FY 08
Net Sales (Rs cr)
146.34
176.32
250.98
PAT (Rs cr)*
30.63
47.52
70.43
EPS (Rs)
44.84
15.96
17.75
RONW (%)
44.62
33.4
27.76
ROCE (%)
27.68
25.15
24.73
FY ending March 31 each year
*Net of non-recurring transactions
The company's major clientele is made up of Suzlon Energy, Reliance Industries, Enercon, BHEL, Grasim, Tata Steel and L&T amongst others. Recently, Sanghvi Movers diversified its business activities by venturing into power generation. The company had windmills of 5.05 MW installed in Rajasthan and Karnataka.
Investment Rationale
Dominant Player
Sanghvi Movers has an overall market share of 50 per cent in the domestic crane-hiring business. Furthermore, in the 200 tonnes capacity segment, the company enjoys a higher market share of 65 per cent and that of 80 per cent in the 250 tonnes capacity segment. The company's strategy of deploying a majority of its cranes on a medium- to long-term basis enables it to stabilize earnings and increase utilization rates. Sanghvi Movers has an impressive list of clientele from various industries. The company has also started a training academy for its operators and engineers.
High Spending on Infrastructure
The fortunes of Sanghvi Movers are directly tied up with the industrial and infrastructural growth. The government has geared up to commence several infrastructural projects wherein cranes would be an essential execution component. Sanghvi Movers is expected to benefit from the massive investments made on infrastructure.
Consistently High Margins
Sanghvi Movers has been able to maintain a healthy operating profit margin, which has increased from 60.39 per cent in FY05 to 78.19 per cent in FY08. To keep the margins high in the coming years as well, the company has added new cranes to its fleet and has also built depots at various strategic locations to reduce transportation costs. Moreover, Sanghvi is also in a position to increase its charges due to the scarcity of cranes in the market. All of the above mentioned will help the company maintain higher profit margins.
Changing Revenue Mix
In FY07, windmills contributed 60 per cent of Sanghvi Movers' revenue as Suzlon was its major client. The company is now consciously trying to reduce its dependency on the windmill sector and diversify into other sectors where the government spending is high. The company has shifted its focus to the lucrative power sector and contribution to its revenue from this sector is increasing at a fast pace. In Q1FY09, the power sector contributed 33 per cent of the company's revenue.
Risks & Concerns
Concentration of Revenues
Of all its clients, Sanghvi Movers' major revenues come from a few like Suzlon, Reliance, Enercon and BHEL. These companies contributed 66 per cent of Sanghvi Movers' total revenues in FY08. Dependency on a few clients leads to an uncertain business outlook as any fallout could severely impact margins.
High Interest Rates
Factors such as economic slowdown, rising inflation and the monetary tightening by RBI has led to an increase in interest rates and higher cost of borrowings for companies. The cost of debt is expected to go up by 12 per cent and in such a scenario, Sanghvi Movers' plan to increase debt for capex is a cause of concern.
Slowdown in Economy
From 1999 to 2003, Sanghvi Movers' gross block was stagnant, reflecting the subdued economic scenario of the time. However, the company was anticipated the increase in demand for cranes when the Indian economy started reviving in 2003. Since then, this company has aggressively ramped up its capacity and gross block has increased 6.4x from Rs. 114.3 crore in FY03 to Rs. 733.6 crore in FY08. But if the current slowdown in economy continues, Sanghvi Movers can take a considerable hit on its topline and bottomline, as they are both dependant on the state of the economy. So the company is vulnerable to any kind of slowdown.
Valuations
At the current price of Rs. 191.65, the stock is trading at a P/E multiple of 11.56x at its FY09E EPS of Rs. 18.31 and 9.96x at its FY10E EPS of Rs. 21.25. The stock is available at 5.84x FY09E EV/EBITDA. Given the company's dominant position in the crane-hiring business and the infrastructural boom in India, the stock undervalued. The stock is rated as an Outperformer with a 12-month price target of Rs. 255.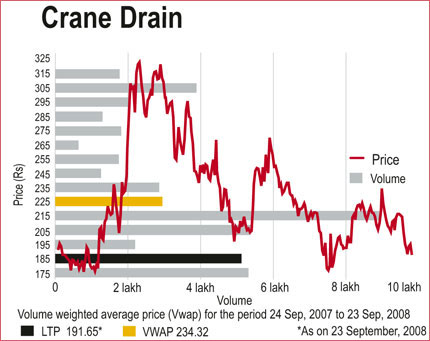 Source: ICICI Direct